At-home COVID-19 testing made easy
Rapid response COVID-19 antigen tests are an efficient, accurate, and reliable method of testing that can be used by any properly trained individual. They're easy-to-use and deliver results within just 15 minutes.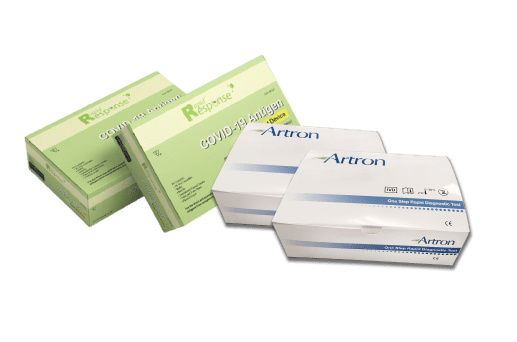 Let us be your piece of mind


Insurance coverage, starting at $0

Direct Nation-wide Shipping

In Ontario, Alberta, and British Columbia, the current guidelines are that properly trained individuals may perform self-swabbing. Before Rapid Testing kits can be purchased, the following training materials and documents must be reviewed.
It is your responsibility to ensure that you have the appropriate knowledge, skills, and judgment to perform the test.
Test at home or at work and get results in 15 minutes
Arton 25x individually packed tests/kit with 25 diluent packs
Abbott 25x individually packed tests/kit with 1 diluent bottle
Roche 25x individually packed tests/kit with 25 diluent packs
Boson 20x individually packed tests/kit + 2 Diluent bottles
Fast and free follow-ups with our medical team
Cover Health takes pride in providing the best for our customers. Connect to a team of medical support staff to help you through your journey.
We want to make it as easy as possible for you to get your test. Simply order online, and we'll get it to you.
All orders of COVID-19 tests are fulfilled by our Canadian partners Ordergrid and SAFE DIRECT Medical Supplies. Express shipping options are available.
In just 15 minutes, you can determine a positive or negative result. Watch the instructional videos for guided instructions on how to take an accurate test.

These tests are very accurate, with a sensitivity of over 90%. If you test positive, please follow your local public health guidelines and verify results with a PCR test.
Contact us if you have any questions
Whether your results are negative or positive, you can always contact our medical team for help and support. We're here for you.
Frequently asked questions
We take your healthcare seriously
Cover Health is backed by some of Canada's leading medical providers.
With over 90% sensitivity and results in 15 minutes, make sure you're prepared.