Wherever you are, whenever you need.
Worried about travel requirements? Think ahead with our online certification service.
Test kits shipped straight to you
Virtual appointments to complete your tests whenever and wherever you need, observed by one of our medical experts
You're immediately emailed a Health Certificate signed by our medical expert to confirm a negative result
Online chat support is available Mon – Fri 9 am – 10 pm EST, and free virtual appointments with our medical team are always available for any reason!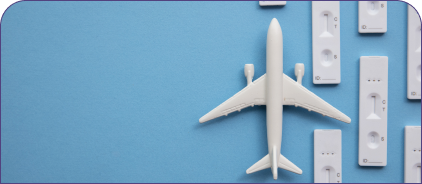 Rapid-response antigen test kits
Virtual observations: Online appointments with our medical experts who observe as you take the test, observe your results, then email you a certificate confirming a negative result.*
1 Observation + 1 Test Kit
$45
2 Observations + 2 Test Kits
$90
Health Canada approved tests. Virtual appointments.
Need help? Chat with our support anytime Mon – Fri, 9 am – 10 pm EST. All you need is wifi!
Rapid-response antigen test kits
Fast and free follow-ups with our medical team
Need a doctor-confirmed negative test result to head abroad, head home, or both? Get your kits and doctor's appointments in advance and skip the stress.
Select how many kits and appointments you need for your trip. Only need some for departure, or needing more for departure and return? Travelling alone, or with a group? If booking for a group, you can book one appointment for multiple people so long as everyone is present to take their tests at that time. Prep now, and skip the scrambling to find kits and a doctor later.
Book when you need your appointments, making sure it's in your travel requirement time frames. Unsure what those are? Your destination should provide how recent they need the test results to be. You get your travel certificate emailed to you straight away once observed in one of our appointments, so no need to worry about delays!
Time for your virtual appointment! Make sure you only open the test kit once the appointment has started. One of our medical professionals will walk you (and your group, if applicable) through how to take the test, and observe the process and results. If negative, they'll email you a signed Health Certificate confirming those results. Then it's bon voyage!
What's on the certificate?
Here's what you'll be getting so you can get that peace of mind
Your info:
Traveler's name (first, last)
Passport number
Date of birth
Gender
Address
Email
Phone number
Our info:
Healthcare examiner's name (first, last)
Profession/title
License number
Address
Phone
Signature (certifying that passenger is cleared for travel)
Test info:
Date and time of specimen and result collection
Test device (manufacturer of test)
Test type (testing method: rapid antigen detection test, laminar flow)
Result (positive/negative)
Use the calendar below to help understand the time frame your appointment will need to be!
When you need to take your test will depend on travel requirements particular to your destinations.
These can vary; please be sure to double check and plan ahead.
Frequently asked questions